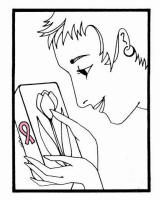 We invite you to grab a brick and make
BRICKTACULAR ART
for our
10th Annual Breast Cancer Brick Auction
Diagnosed with Breast Cancer, Ellen Bernstein Ganson felt like she was hit with a ton of bricks. She co-founded Bricks Along the Journey with Marcia Levitas. Ellen lost her battle to Breast Cancer on September 26, 2006. In celebration of Ellen's life and her determination to fight Breast Cancer we continue the Journey.
We are pleased to announce that 400 Artists participated in last year's event which raised $35,000 bringing our total auction proceeds to $250,000 which we allocate to breast cancer research, education, advocacy & patient support in Greater Cincinnati. We are proud that more than a dozen states have been represented by Artists creating brick art.
You can now go to our website: www.breastcancerbricks.org and register by clicking on Artists. If you are a returning artist who previously registered online, simply click Artist Login for 2011 registration and login. Click on Artist Registration if you have not yet set up an online account. Entering your bio and inspiration online is simple, just follow information provided or watch the video. This way we can be sure you receive information about the auction and the ARTIST APPRECIATION PARTY!
This year we will have two dates, (on or before) for brick collection. Click on the Artist tab for a listing of pick-up & drop-off sites.
PRIORITY BRICK TURN IN DATE:
MONDAY AUGUST 29, 2011 *
*To have art considered for inclusion in the Bricks Along the Journey promotional item
FINAL BRICK TURN IN DATE:
MONDAY SEPTEMBER 18, 2011
Thank you so very much. We appreciate your commitment to the Breast Cancer Brick Auction. Please contact me with any questions.
Enjoy the Journey,
Beth
673-7420