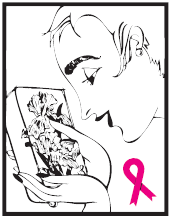 Announcing the
7th Annual Breast Cancer Brick Auction
"Bricks Along the Journey"
October 26, 2008 2-5 p.m.
Sharonville Convention Center
Dear Friends,
The Breast Cancer Brick Auction is a loving tribute of hope and determination to every woman, her family & friends, who live or have lived with Breast Cancer. For those of us who have lost a dear one, our active participation in this ongoing event is comforting & healing. For those who are supporting a loved one, the camaraderie, exchange of information & positive spirit shared is valuable.
Ellen Bernstein Ganson, who co-founded "Bricks Along the Journey" with Marcia Levitas, lost her battle to Breast Cancer on September 26, 2006. In celebration of Ellen's life and her determination to fight Breast Cancer, friends, artists, and family are committing themselves to the continuation of the Brick Auction. In her memory, The Ellen B. Ganson Memorial Foundation has been established. All proceeds will benefit Breast Cancer research, education, advocacy and patient care in the Greater Cincinnati area.
We are thrilled with what we accomplished at the last auction in October 2007. $39,000 was realized from the sale of bricks & raffle prizes. Advance sponsorships yielded $46,000 for a total of $85,000 to benefit Breast Cancer projects.
Artists contribute beautiful, inspirational bricks; expressing creativity, originality and artistic talent. We created beautiful gift packages from contributions donated to our raffle.
We appreciate your support of 'Bricks Along the Journey!' We proudly mention each raffle contribution in our program book.
Please visit our web site at www.breastcancerbricks.org to view bricks from past years and information about the Auction.
Raffle items may be sent to 'Bricks Along the Journey', 9436 Southgate Drive, Cincinnati OH 45241. Please submit a contribution form - Click here.
Please contact Beth Goldfarb at 513-673-7420 or by email, beth@breastcancerbricks.org if you have any questions.
On behalf of our entire committee, we would like to thank you in advance for your participation and support of this colossal project. We could not do this without you!
Sincere best wishes and appreciation,
Susan Bernstein
Beth Goldfarb
Breast Cancer Brick Auction Chairpersons